News & Events
Native Noshing: Tree Frog Tavern & Grille

One of the newest additions to the dining scene near the 1140-acre master-planned community of Traditions of Braselton, Tree Frog Tavern & Grille brings a fresh take on pub fare to North Georgia. Located in the Traditions Walk Shopping Center at the intersection of Freedom Parkway and GA-124, Tree Frog showcases a cozy interior, spacious patio, friendly staff and imaginative menu of well-honed menu of American classics with a slight, but tasty twist.
Let's start with the STARTERS
Their Fire-Roasted Corn Queso and Mini Fish Tacos might help quell any cravings for Mexican fare, while Drunken Shrimp and Tavern Pretzels & Beer Cheese help keep the "pub" in Tree Frog's pub fare. If you're feeling like a flatbread, their menu offers two – Burrata Caprese Flatbread and Avocado Flatbread (a unique take on avocado toast). Two particularly unique dishes are must-tries, according to Tree Frog team members: The Country Poutine – which features a bed of steak fries loaded with savory white pepper gravy, bacon, green onion, cheese curds and a fried egg, and the Chicken-Fried Bacon (a fan-favorite) – which features extra thick-cut Applewood bacon, breaded and fried to perfection, then served with ranch dressing and white pepper gravy for dipping. Rounding out the list of appetizers is a tried-and-true tavern classic – Chicken Wings. Served in your choice of sauces or dry rubs – which include mild or hot buffalo, lemon pepper, whiskey peach BBQ, Thai peanut, honey garlic sriracha, teriyaki, garlic parmesan, and malt & old bay (if you like dry rubs, we can personally attest to the flavor of that last one!)
Moving on to the Main Course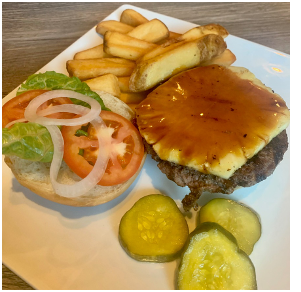 Tree Frog endeavors to satisfy a wide array of tastes with the choice of three entrée salads – each available with a protein on top, such as chicken, shrimp, steak or mahi mahi. Their sandwiches showcase a choice of a Traditional Reuben, a nautical nod to the Reuben in Angler's Rachel, The BPL (breaded pork loin) and the Chicken Sandy – which can be served fried, grilled, blackened or buffaloed. As one might suspect from a restaurant that touts the word "Grille" in its name, burgers are the star of the show with five artistically inspired gourmet burgers from which to choose, with the option to express your own creativity and build your own. The servers list The Tree Frogger, The Bold & Bleu and The Dragon among the most popular, but we can also vouch for the tastiness of The Happy Hawaiian – served with a slice of grilled pineapple, avocado and a generous drizzle of teriyaki sauce for a truly distinctive taste. Rounding out the entrees are Fish 'n Chips, Tavern Steak, Grilled Sweet Chili Mahi Mahi, Whiskey Peach BBQ Chicken Breast (another reputed fan favorite) and Pasta Primavera. Side choices include steak fries, mac & cheese, cole slaw, roasted corn, and grilled squash & zucchini in a balsamic glaze. A side salad is also available.
Would You Like a Drink with That?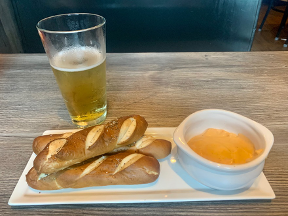 Needless to say, as a Tavern, Tree Frog offers a menu of bottled and draft beer (available in 16 or 22 oz OR by the pitcher), several wine selections, and several creative cocktails. On Sundays, when the restaurant makes the switch to a brunch menu, the cocktails include mimosas, bloody marys and a number of prosecco-based creations. The brunch menu itself features Biscuits & Gravy, The Frenchie French toast platter, Shrimp & Grits, Build-Your-Own Omelets and more. 
Sure to become a favorite among Traditions of Braselton neighbors due to its proximity to the community (roughly a mile from our Discovery Center), family-friendly atmosphere and great food. Tree Frog Tavern & Grille proudly supports police officers, active military members, veterans, and first responders – offering a 10% discount on their food bill as a small token of the Tree Frog team's gratitude. Closed on Mondays, Tree Frog's hours are Tuesdays-Thursdays: 4:00 PM – 9:00 PM; Fridays and Saturdays: 11:00 AM – 10:00 PM; and Sundays: 11:00 AM – 3:00 PM. If you're considering a move to Traditions of Braselton, you may want to consider making Tree Frog Tavern & Grille part of your visit experience. You might meet a few of your future neighbors while you're there!