News & Events
Native Noshing – Pat's Eatery Traditions of Braselton Blog March 2022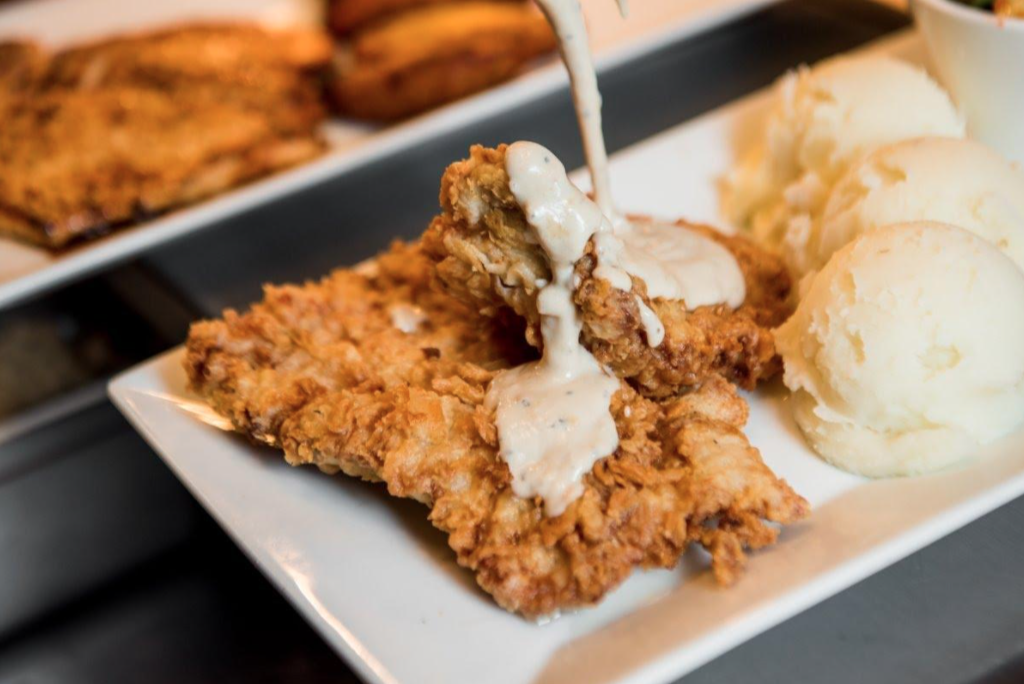 If you're in search of bona fide comfort food near Traditions of Braselton, look no further than Pat's Eatery. Established in 2015 and located at 2625 Old Winder Highway (Hwy 211) – Suite C in Braselton, this family-owned and operated restaurant is a favorite among locals. Don't let the unremarkable appearance of its exterior fool you. Once inside, you're in for something special. Boasting an open concept kitchen adjacent to an intimate dining room, diners can view the chefs hard at work on a wide variety of made-from-scratch breakfast dishes, chef's salads, deli sandwiches and wraps, burgers, paninis, pastas and comfort food classics while enjoying their meal in the cheery interior, complete with equally cheery customer service.
Must Haves on the Menu
Open for breakfast, lunch and dinner Tuesdays through Saturdays, and brunch on Sundays, you'd be hard-pressed to find anything that isn't delicious on the menu. The robust breakfast menu features a variety of stick-to-your-ribs egg sandwiches, breakfast platters (the fried porkchop breakfast is DREAMY and oh so Southern), omelets, hash platters (corned beef hash topped with two eggs over easy may just be the greatest invention since the wheel), muffins, biscuits and bagels. Breakfast is served 7-11 a.m. Tuesday through Saturday.
A great place to grab lunch with friends or co-workers, Pat's lunch menu features a variety of classic and chef salads that you can top with your choice of proteins like chicken, shrimp, salmon and steak. Add a soup of the day or their daily favorite – creamy tomato basil soup. There are also a wide variety of sandwiches and wraps – like the corned beef on rye, gourmet chicken salad sandwich and buffalo chicken wrap, just to name a few. The burgers at Pat's showcase 8 oz. angus beef and finished with a variety of toppings like blue cheese crumbles and crispy fried onions, mushroom and swiss, bacon and cheddar and more. Guest can also take their pick of paninis, melts or gourmet grilled cheese – showcasing TEN slices of cheese with seared tomatoes on your choice of bread (great for dipping in the aforementioned tomato basil soup!!)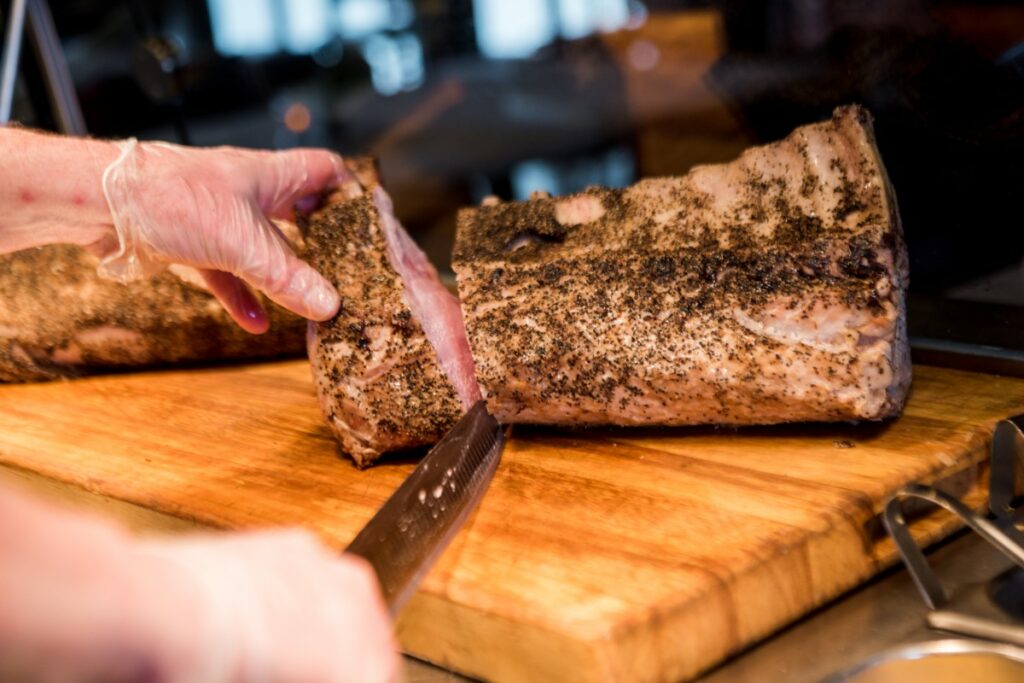 Dinner at Pat's Eatery is where the chefs really strut their stuff. While there are still a selection of salads, sandwiches and burgers on the menu, entrees like Shrimp & Grits, Chicken Fried Chicken, New York Strip, Pan Roasted Salmon, Mediterranean Shrimp Scampi and more will make it difficult to choose – they're all so good! Pat's Eatery is also really well-known for its expansive selection of sides like garlic broccoli, creamed spinach, macaroni and cheese and sweet potato mash topped with streusel – and we're just getting started.
Save room for dessert!!  The bakery case at Pat's Eatery shows off a variety of cakes and pies that are generously cut to the delight of patrons with a sweet tooth. Take your pick of fresh baked Fudge, Oreo Cookie, Milky Way, Snickers, Carrot cake and more. Do you prefer pie? Their key lime, chocolate and peanut butter pies will not disappoint – and you can always opt for cheesecake!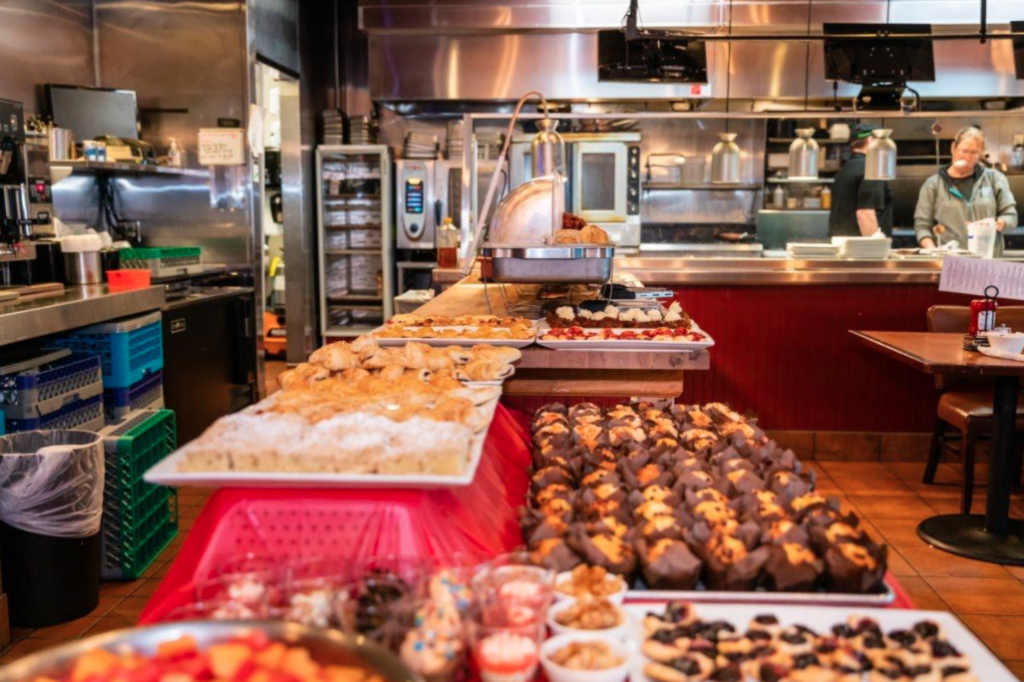 Get in Line for Sunday Brunch
But what really put Pat's Eatery on the map of Braselton is its sumptuous and crowd-pleasing Sunday Brunch. Served from 9 a.m. to 2 p.m. every Sunday, be prepared for a wait as guests pack the dining room from open to close. And it's no wonder with such delights as hand-carved ham, eggs benedict, made-to-order omelets, French toast, pancakes, sausage, bacon, grits, a variety of pastries and soooo much more. 
To learn more about Pat's Eatery, be sure to visit them online at www.patseatery.com and become a fan of their Facebook page. Of course, the best way to get a true read on this local treasure is to visit Pat's Eatery and experience their extensive and diverse menu firsthand!