News & Events
Native Noshing: Sliced of Hoschton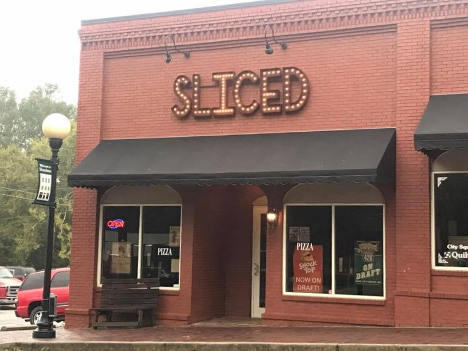 There are roughly 830 miles between Traditions of Braselton and the bright lights of Manhattan at the heart of New York City. You could make the 14-hour drive up there if you've really got a hankering for New York-style thin-crust pizza, but why do that when Sliced of Hoschton is just 5 miles away? The very definition of a "hole in the wall," Sliced is tucked away at 21 City Square in the shadow of the water tower on the Hoschton Square. Whether dining in or prepping to go orders, this classic pizza joint is always busy and for good reason. The pizza that is the foundation of their menu is FANTASTIC!
Upon arrival, orders are placed at the cash register and then you are given a number to take back to your table. If the dining room is filled to overflowing, you can order your pizza to go, then snag a prime spot at the bar to enjoy an ice-cold beer while you wait. Dine-in pizza orders include a couple of complementary garlic knots, sprinkled with garlic butter and parmesan – a culinary "sneak peek" into what's to come. You can always order more as your starter, or you can grab some wings or mozzarella sticks to get your party started.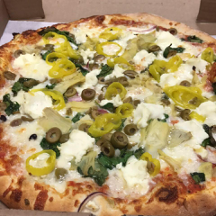 As their name would suggest, the menu is dominated by pizza. Just to name a few, specialty pizzas include The Sliced Fav – topped with italian sausage, ricotta, mushroom and fresh basil; The Wayne – topped with italian sausage, mushrooms, black olives, artichoke hearts and red onion; The Ol' Clifford – a meat-lovers masterpiece topped with pepperoni, italian sausage, beef, ham, bacon and Canadian bacon; and The Chief – topped with pepperoni, sausage, onion, mushroom, black olive and green pepper. You can always select your own toppings to create your family's vision of the perfect pizza from selections like pepperoni, italian sausage, meatball, grilled chicken, bacon, anchovy, ham, canadian bacon and fresh veggies like mushroom, green peppers, onion, red onion, banana peppers, tomato, artichoke, black olives, green olives and spinach. Pizzas come by the slice as well as in 14" and 18" rounds.
The Sliced menu also comes complete with several tasty salads – to which you can add chicken for a nominal fee. Served with a side of fries, hot sandwiches on the menu include The Meatball – featuring meatballs topped with mozzarella, marinara and fresh herbs, The Italian – featuring a veritable charcuterie board on bread with pepperoni, ham, mozzarella, lettuce and roasted tomatoes; The Chicken Bacon Ranch – with chicken breast, bacon, ranch, mozzarella, spinach and tomatoes; and The Chicken Pesto – with chicken breast, pesto aioli, mozzarella, red onion and spinach. Build-Your-Own Calzones round out the main menu. A short but sweet kids menu features a slice of pepperoni or cheese pizza or an order of two chicken tenders with fries at a great price. Save room for dessert if you love a good cannoli!
A true testament to the quality of its food, the popularity of Sliced has led to an explosion of new locations, including one on Riverside Drive in Gainesville, one on North Elm Street in Commerce and another on Winder Highway in Flowery Branch. To learn more about Sliced, visit them online or pay a visit to one of their nearby locations. If you lived in Traditions of Braselton – beyond access to excellent pizza just a 10-minute drive away – you could also enjoy a wealth of resort-quality amenities, including a swim club, tennis center, pickle ball courts and more. Our 1140-acre master-planned community features a stunning collection of spec and custom homes crafted by some of the South's most talented builders. If you haven't already done so, we invite you to discover our community by visiting our Discover Center at 401 Delaperriere Loop in Jefferson – and maybe grab a slice at Sliced when you're done. Questions? Give us a call at 706-684-0450 or visit our website at www.TraditionsofBraseltonHomes.com.