News & Events
Celebrate National Nutrition Month® at Traditions of Braselton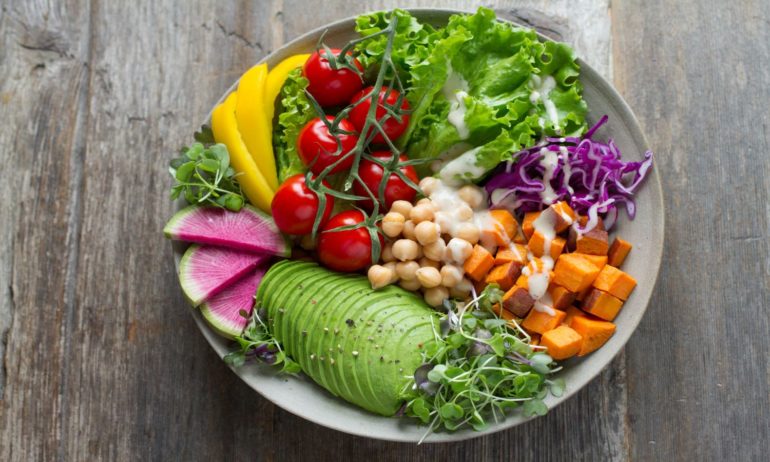 Launched in 1973 by the American Dietetic Association (ADA) – now known as the Academy of Nutrition and Dietetics, National Nutrition Month® is observed every March. Designed to educate the public about the importance of good nutrition, this year's theme is "Fuel for the Future" to incorporate the value of eating with sustainability in mind. In addition to encouraging you to make informed food choices, this month-long observance also encourages the adoption of healthful eating and physical activity habits.
With lifestyle-driven amenities that include everything from tennis and pickleball to swimming and regular workouts in our state-of-the-art fitness center, Traditions of Braselton makes it easy for our neighbors to incorporate a healthy physical activity regimen into your daily life. Given our placement between Gwinnett County's suburban sprawl and Jackson County's more rural rolling landscape, there is a treasure trove of farm-to-table restaurants and retailers featuring locally sourced foods – making it simple to bring home sustainable, healthy foods to your kitchen. And given our extensive list of talented builders that emphasize the "heart of the home," you will feel inspired to create nutritious dinners in your chef-inspired Traditions of Braselton kitchen.
Where to Shop
Publix at West Jackson Crossing – Located at 6055 Highway 124 W, we're fortunate that one of the closest grocery stores to our master-planned community is one that features an extensive line of USDA Organic products. GreenWise products at Publix are made without artificial preservatives, flavors, or color; raised without antibiotics or added hormones; and/or make an environmental claim on the label. This location also features an extensive produce section.
Kroger at Loggins Corner – Situated just off Hwy 129 at 1685 Old Pendergrass Rd in Jefferson – roughly 10 minutes from the community; like Publix, Kroger offers a health-conscious food line called Simple Truth. Kroger endeavors to take nutrition several steps further by featuring a bountiful dedicated health food section in each of its chain stores, telenutrition appointments with registered dieticians who believe in food as medicine, and the Kroger app – which offers the new OptUP nutrition scoring system, so you can keep tabs on how healthy your food purchases are from one visit to the next. The Kroger app is available for free in the App Store and Google Play.
Braselton Farmers Market – Hosted near the Braselton Town Green at 9924 Davis Street in Historic Downtown Braselton, the Braselton Farmers Market takes place once a month in February-April and October-November, and on a weekly basis from May through September. Farm-fresh products you'll find there include a variety of meats, eggs, seasonal produce, jams, pastries, and more.
Where to Dine
Fleur de Lis – Located inside the Spa at Chateau Elan, this exquisite establishment offers what it deems "mindful dining" overlooking a lake. Using the choicest of healthy ingredients, you can order everything from Avocado Toast on Sprouted Grain Bread or Vegan Tofu Scramble for breakfast to Spa Signature Crab Cakes over Sauteed Winter Greens or Pan Roasted Branzino over Spaghetti Squash for lunch as just a sampling of what's on the menu at Fleur de Lis.
You can also find healthy selections at Cotton Calf Kitchen in Downtown Braselton – which serves salads, seafood, and only the highest quality dry-aged Angus Beef, and Ninja Steak & Sushi at 5753 Old Winder Highway – which serves a broad assortment of nigiri, sashimi, and sushi rolls.
What to Serve When Dining at Home
When pursuing a healthy diet at home, Mayo Clinic recommends incorporating the following 10 foods:
Almonds –an excellent source of fiber, vitamins, minerals, and other nutrients
Apples –a great source of Vitamin C and soluble fiber for lowering cholesterol and glucose levels
Blueberries – this low-calorie superfood is loaded with phytonutrients that can help prevent chronic diseases, such as heart disease, diabetes, and some cancers
Broccoli – a good source of Vitamin A for eye health, Vitamin C for immunity, and folate for red blood cell formation and converting carbs into energy
Red beans – these low-fat legumes give your body a boost of protein, dietary fiber, iron, phosphorus, and potassium
Salmon – low in saturated fat and cholesterol, salmon is an excellent source of protein and Omega-3 fatty acids – which can help prevent blood clots, irregular heartbeats, and high blood pressure
Spinach – rich in Vitamins A, D, folate, and magnesium, these leafy greens are immunity boosters that can guard against eye disease, heart disease, and some forms of cancer
Sweet Potatoes – bursting with beta-carotene, sweet potatoes slow the aging process and reduce the risk of some cancers. They are also filled with Vitamins A, B-6, and C, potassium, and fiber
Vegetable Juice – one of the easiest ways to ingest your veggies, vegetable juices – particularly those that incorporate tomatoes – contain the antioxidant lycopene, which may reduce the risk of prostate cancer. Be sure to look for low-sodium options or make your own juice at home
Wheat germ – great for sprinkling over oatmeal, cold cereal, toast with nut butter, or Greek yogurt and berries; wheat germ is an excellent source of thiamin, folate, magnesium, phosphorus, zinc, protein, and fiber.
To take a tour of our amenities and available homes with kitchens that will motivate you to cook healthy at home, we invite you to drop by the Traditions of Braselton Discovery Center – located at 401 Delaperriere Loop in Jefferson. Our hours are Monday through Saturday: 10am – 6pm and Sunday: 1pm – 6pm. We look forward to meeting you soon and helping you find your way "home" to Traditions of Braselton!