News & Events
Let's Go On a Picnic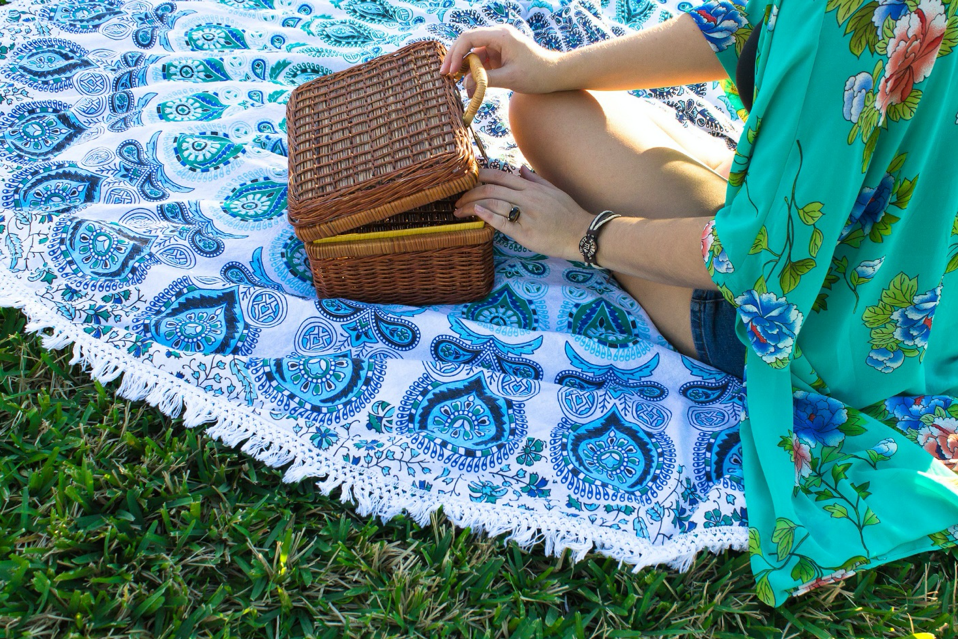 Traditions of Braselton Guide to Picnic Spots and Recipes
Did you know July marks National Picnic Month?  It's the ideal excuse to pack up a picnic basket and head out to any number of great spots around Braselton, Jefferson and Jackson County! To help you get started, Traditions of Braselton has pulled together a few of our favorite recipes and local hot spots for dining al fresco.
Here's the WHAT:
While entrees like cold cut sandwiches and fried chicken are staples of the picnic basket throughout the country, few picnic packables are quite as Southern as Pimento Cheese, Chicken Salad, Potato Salad, Deviled Eggs and Lemonade Cake. We've done a little digging through our digital recipe box and this is what we've come across…
The Perfect Pimento Cheese Recipe Compilation by Southern Living – a true Southern classic, this can be served on crackers as an appetizer, between soft slices of white bread as a sandwich or atop charcoal grilled hot dogs as part of your main course. For a little added kick, consider incorporating a little fresh or pickled jalapeno.
Classic Chicken Salad Recipe by Pioneer Woman – the addition of grapes and a couple of other unexpected extras makes this recipe one that could send you time travelling back to your Grandma's garden party. If you're a fan of Pioneer Woman and her recipes, it should be noted that of all the chicken salad recipes in the world – this one is made the way SHE likes it best.
Perfectly Pleasant Potato Salad Recipe by Paula Deen – For a truly great potato salad recipe, why look any further than one of the South's greatest kitchen divas… Paula Deen. Fresh ingredients and the kick of the Dijon-red wine vinegar base set it apart on the flavor scale from most primarily mayo-based potato salads.
Devilishly Good Deviled Eggs Recipe by Martha Stewart – As the quintessential hostess with the mostest, we look to Martha Stewart for one of her favorite hors d'oeuvres recipes. The addition of hot sauce takes this dish to a new level of deliciousness.
Luscious Lemonade Cake Recipe by Betty Crocker – For a taste of Southern summertime sweetness, we suggest this classic recipe from the name American cooks have loved since the 1920's… Betty Crocker.
And Here's the WHERE:
Now that you've got your picnic packed, it's time to select the perfect destination! This is the SOUTH, honey and there are no shortage of awesome spots to spread out your picnic blanket. With 1140 acres to explore including a number of ponds and a sprawling event lawn near the Owner's Club House, you could very well find your favorite picnic spot right here in the neighborhood. If you're looking for a change of scenery, here are just a few of our personal favorites within a short drive of Traditions of Braselton…
Sells Mill Park 8783 Jackson Trail Road in Hoschton
Dine in the shadow of a historic mill in this park that features a large covered pavilion with picnic tables, playground and walking trails.
West Jackson Park 374 Cabin Drive in Hoschton
Boasting two covered pavilions with picnic tables, a playground, walking trail, batting cages and several youth baseball/softball/t-ball fields, you can enjoy the sound of the crack of the bat and cheers from the crowd while you dine on picnic fare during baseball season.
Braselton Town Green 9924 Davis Street in Braselton
This outdoor entertainment venue, event lawn and gathering spot at the heart of Historic Downtown Braselton is an idyllic spot to toss a Frisbee and enjoy a homemade meal under blue skies.
Shields-Ethridge Heritage Farm 2355 Ethridge Road in Jefferson
Showcasing 152 acres and more than a dozen historic structures, this outdoor agricultural museum is open from dawn to dusk seven days a week from April through October. Take a self-guided tour and then set a spell on the lawn to enjoy your picnic and reminisce about the past.
Hurricane Shoals Park 416 Hurricane Shoals Road in Maysville
As the name might suggest, shoals along the river are central to this expansive park which is home to a number of beautifully preserved historic buildings in its Heritage Village, as well as several playgrounds, walking trails, outdoor basketball court, sand volleyball court and – of course – picnic areas. You can walk off your meal as you play the "Spirit of the River" miniature at the park.
If you haven't already discovered Traditions of Braselton and all that it may have to offer your family, a picnic lunch is the perfect excuse to make the drive up, explore one of these area parks and then pay a visit to our Discovery Center for a formal introduction to our master-planned community and resort-style amenities! Begin planning your visit today at www.traditionsofbraseltonhomes.com!
KB 7/8/2020
* this image is from Pixabay – https://pixabay.com/photos/aesthetic-picnic-pattern-2093136/