News & Events
Native Noshing: Jack's Public House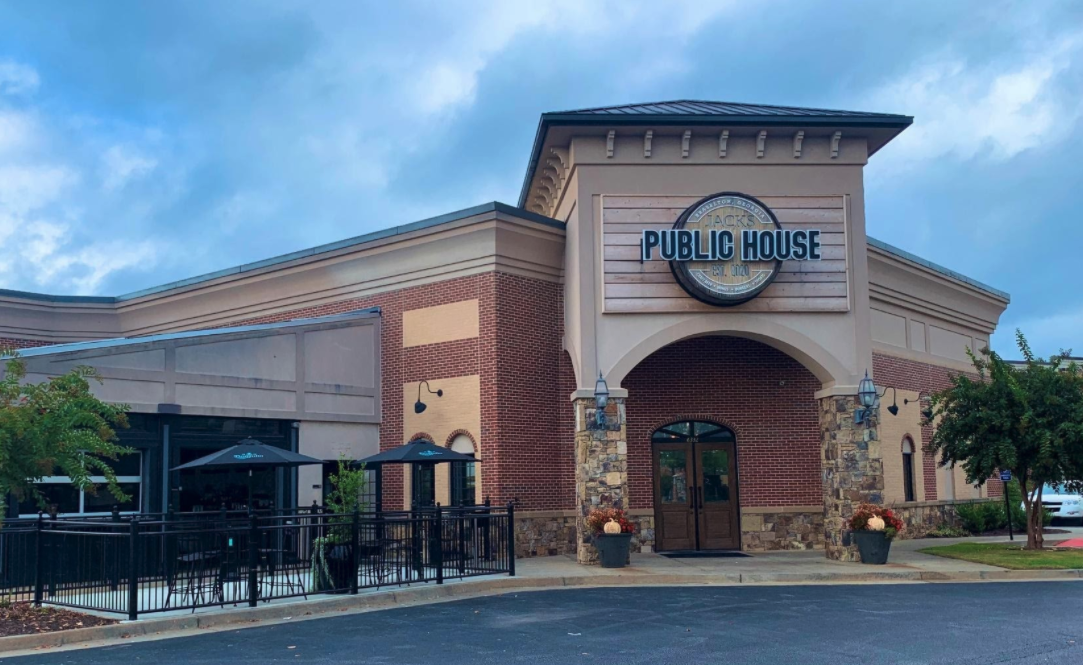 Set off Highway 211 in Braselton, Jack's Public House offers great food and staff to match in an atmosphere that's casual and family friendly – until after the kids go to bed. Two bars – one indoor and one outdoor – make it a hotspot for nightlife, particularly on weekends. Live music from local artists helps set the mood, but let's get down to what really sets this place apart… the FOOD!
Get a solid start to your meal with some solid Starters like Baked Spinach Dip with House Chips, Nashville Hot Cauliflower with Bleu Cheese, and Southern Nachos loaded with chili, beer cheese, sour cream, jalapeños and chives. Our personal favorite – the Pimento Cheese Balls served with Red Pepper Jelly (YUM!) Jack's Public House also offers Wings – which you can get fried in the traditional sense or smoked for added flavor. Sauces include Buffalo, BBQ, Nashville Hot, Jamaican Jerk, Teriyaki, Garlic Parmesan, Lemon Pepper and Carolina Twang.
Looking for something light? A number of great salads fit the bill as an entrée – like the Southern Cobb topped with fried chicken, hard-boiled eggs, grape tomatoes, bleu cheese crumbles, roasted corn, applewood bacon, red onion, cucumbers and chives or the Buffalo Chicken Salad with fried chicken dredged in buffalo sauce, celery, grape tomatoes, bleu cheese crumbles, green and red onions and applewood bacon. You can opt to add your own protein – like cod, mahi mahi, grilled chicken, chicken salad, turkey burger or ham + turkey to the Mediterranean, Havana, Georgia Pecan and House salads. Soups at Jack's include the Public House Chili and Chicken 'n Dumplings.
As for the Main Event, Jack's Public House offers an extensive assortment of imaginative burgers as well as several specialties. Burgers include the Swine & Dine which is topped with smoked pork, pickles, southern slaw, cheddar cheese, applewood bacon and BBQ sauce, the Wisconsin Melt which features beer cheese and fried onions on a pretzel roll and the Bourbon & Cola which showcases applewood bacon, cheddar, bourbon & cola onion jam and horseradish aioli – and that's just to name a few. Specialties are mainly handheld options – like the Fish & Bun (self-explanatory), the Drunken Philly (a philly cheesesteak covered in beer cheese), and Jack's Feathers (chicken tenders – a signature dish for this restaurant group). We LOVE the Fried Bologna Sandwich – featuring fried bologna, applewood bacon, American cheese, fried egg and mayo – grilled to perfection. All entrees are served with house chips, but a la carte sides include fried corn cob, southern slaw, potato salad, broccoli, battered fries and onion rings – a MUST for onion ring lovers.
The kid's menu makes it a great destination for families – offering pint-sized patrons battered cod, grilled cheese, mac & cheese, chicken tenders, corn dog and a cheeseburger. The bar menu makes it a great destination for grown-ups with a wide selection of craft beers, wines and cocktails. Don't miss their Sunday Waffle Brunch with bottomless mimosas! Jack's Public House regularly showcases specials, so it's wise to become a fan of their Facebook page to stay up to date on the latest news. Best of all, Jack's Public House is owned by Jack and Hollie Ansley – who also own Local Station, Jack's and the soon-to-premiere Twenty7 at Traditions Golf and Country Club.
Jack's Public House is located at 6332 Grand Hickory Drive in Braselton – less than 10 miles from Traditions of Braselton. It joins an ever-growing collection of shops and eateries that are convenient to our residents. If this review inspires you to give Jack's Public House a try – let us know what you think! To learn about other great restaurants near our master-planned community, don't hesitate to drop by the Discovery Center at 401 Delaperriere Loop in Jefferson. While you're here, will be happy to point you in the direction of some beautiful homes and excellent builders in hopes that we'll be calling you "neighbor" soon!