News & Events
Native Noshing: JaxCo Nutrition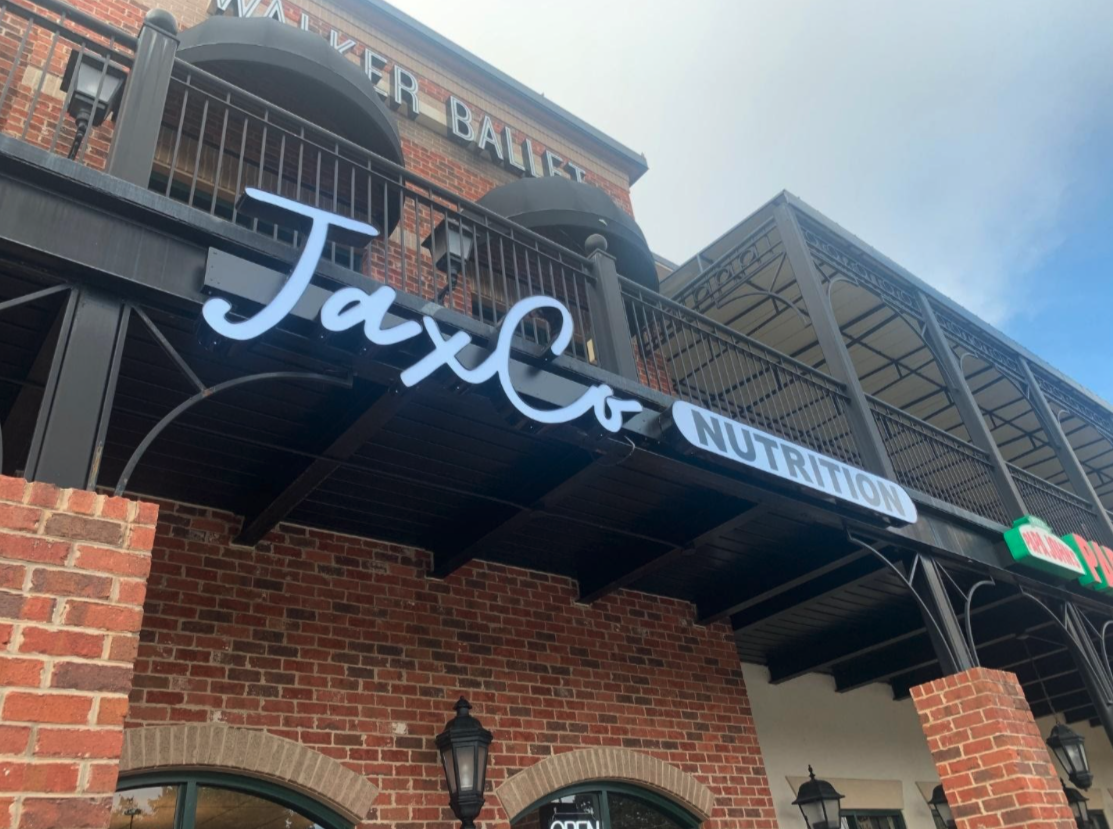 While this is a slight departure from our traditional reviews of mainly steak houses, pizza places and dessert joints in our Native Noshing series, we assure you that it still ranks high on the flavor factor. Convenience is the hallmark of JaxCo Nutrition – in more ways than one. Not only is it located just a little over a mile from the Discovery Center at Traditions of Braselton at 55 Freedom Parkway, at Traditions Walk Shopping Center along with its neighbors at Laguna Mexican Grill and Tree Frog Tavern & Grille, but the bulk of its menu consists of healthy grab-n-go meal replacement shakes. 
Shake Up Your Diet
Each meal replacement shake comes packed with 24-27 grams of protein, but only 10-15 grams of carbs, 6-13 grams of sugar and 200-250 calories per shake. That's hard to believe with such enticing flavors as Banana Moon Pie, Butterfinger, Captain Crunch, PB&J, Key Lime Pie, Wedding Cake and more. The Discovery Center crew can personally vouch for the flavor of JaxCo's Banana Pudding and Cinnamon Toast Crunch shakes – both are delicious without the chalky taste of some other high-protein shakes. They contain roughly half the recommended daily intake of protein for women and a little less than half for men, according to the U.S. Department of Agriculture and the U.S. Department of Health and Human Services' Dietary Guidelines for Americans.
In addition to being an important component of a healthy diet, protein also plays a crucial role in fueling your energy, carrying oxygen throughout your body in your blood and muscle repair and growth. This makes it a popular component to a pre- or post-workout routine. That doesn't mean these shakes aren't for you if you don't go to the gym. Protein also helps our bodies develop antibodies that fight off infections and illnesses while keeping and regenerating healthy cells.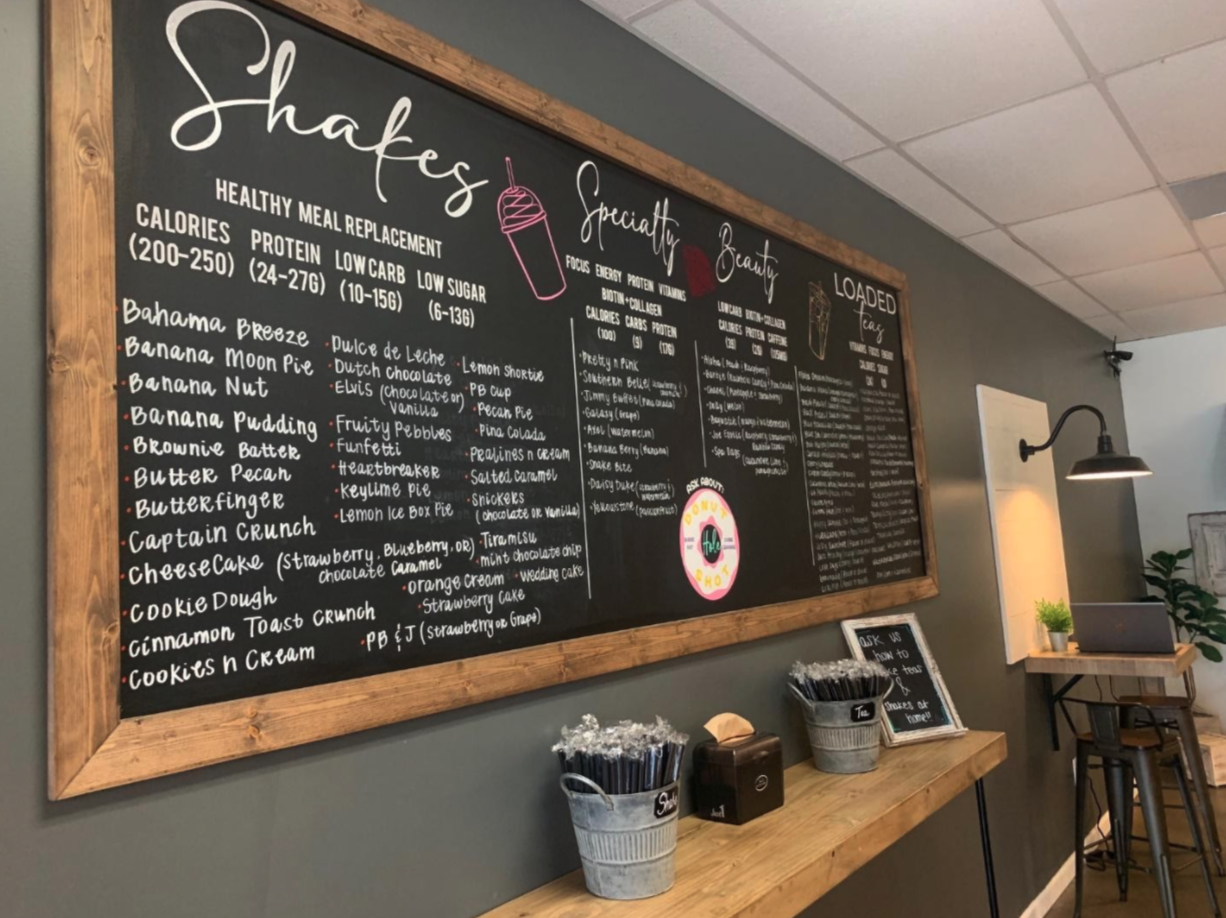 Tea Anyone?
In addition to shakes, JaxCo offers Teas – Specialty, Beauty and Loaded. Specialty teas come in at only 100 calories, 9 grams of carbs, 17 grams of protein and a collection of natural ingredients – like vitamins, biotin and collagen – designed to enhance focus and energy. Beauty teas are lower in calories and protein at just 39 and 2 grams respectively, but they pack a punch with 115 milligrams of caffeine. These low carb teas also contain biotin and collagen – both of which are great for promoting healthy aging, maintaining joint and bone health, and – as the name would suggest – boosting the health and beauty of your skin, hair and nails.
Loaded teas at JaxCo Nutrition come in more than three dozen flavors, each packed with vitamins for focus and energy, but with only 24 calories and zero sugar. If you're sensitive to caffeine, Loaded teas can be ordered at "half caff" to cut your caffeine intake to roughly 58 milligrams – a little less than what what you'd get from drinking one cup of coffee. Flavors can be loosely divided into two categories – sweet and sour. We can personally vouch for the sweet and refreshing flavor of Georgia Peach – sweetened naturally by the fruit, but Captain America is JaxCo's most popular flavor – weighing in more on the sour side. Other flavors available include a blend of pineapple and cherry called Aloha Dream, strawberry and blue raspberry called Cotton Candy, strawberry and watermelon called Gummi Bear, strawberry and pineapple called Happy Camper, and many others. Teas can be made "to go" – where you can place it in your fridge for up to 7 days until you're ready to drink it, then simply add water and ice and mix well, as the vitamins tend to settle at the bottom of the cup over time. 
To learn more about this healthy alternative for breakfast and lunch, visit JaxCo Nutrition's Facebook page. Even better, visit them in person! The shop is open Monday-Friday 7 a.m. to 5 p.m. and Saturday 9 a.m. to 2 p.m. – closed on Sunday. For more tips about great restaurants, shops and other destinations around Traditions of Braselton, be sure to drop by the Discovery Center – where we can also point you in the direction of the ideal builder to build your new home in our 1140-acre master-planned community. We're located at 401 Delaperriere Loop in Jefferson, and we look forward to seeing you soon!