News & Events
Native Noshing: Cream & Shuga Coffee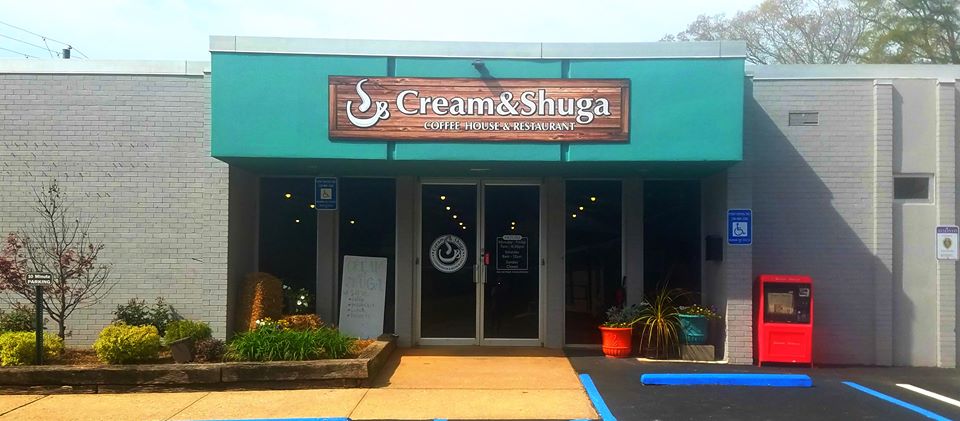 One of the best things about being flanked on either side by the charming Town of Braselton and the distinctive City of Jefferson at Traditions of Braselton is our access to a wealth of wonderful restaurants and dining destinations. Going out on the town – whether for breakfast, lunch or dinner – is just one awesome perk of the distinctive lifestyle offered by our sprawling 1140-acre master-planned community. Other elements that set us apart – aside from our stunning collection of homes priced from the high $200s to $700+ – are our world-class amenities that include an 18-hole and clubhouse, swim club with waterslide and splash pad, tennis complex, event lawn and sprawling Owner's clubhouse with fitness center. If you're headed our way to take a tour of available homes and amenities, and you just happen to be in the mood for a cup of joe and a quick bite, you may want to set aside time for a true gem of a "hole in the wall" in Jefferson – Cream & Shuga Coffee House & Restaurant.
Save Room for Dessert
Situated in what was once the old city jail, this kitschy coffee house offers a main dining room plus a series of dining rooms set inside jail cells. Its menu features a diverse selection of coffee, espresso, tea, smoothies, specialty drinks, and an assortment of pastries, along with breakfast and lunch items that are prepared to order. Available from 7-11 a.m., Cream & Shuga's breakfast menu offers such fare as bagels with cream cheese, breakfast sandwiches, oatmeal, breakfast plates and muffins. Served from 11 a.m. to 2 p.m., their lunch features a bountiful blend of classic sandwiches like a club or chicken salad croissant and more innovative handheld grub like the Augusta BLT – featuring pimento cheese, spiced bacon, tomato, and arugula on warm sourdough bread; or the Urban Cowboy Wrap – which includes hummus, black bean & corn salsa, lettuce, tomatoes, pepper jack cheese, and chili sauce (you can add chicken, if you wish). There is also an assortment of salads and other snacks, but whatever you order – be SURE to save room for dessert. While their dessert menu changes daily, you can expect to see some truly decadent desserts in their dessert case. Just to help get your mouth watering, here are a few sweets you can expect to find from one day to the next:
Cookie Dough Cheesecake Bar
Carrot Cake Bar
Peanut Butter Fudge Bar
Milk & Cookies Cake
S'mores Bar
Blueberry Crumble
Rainbow Rice Krispy Treat
Pumpkin Cheesecake Bar
Chocolate Fudge Cake
Pecan Pie Bar
Cherry Cheesecake Brownie
White Chocolate Cheesecake
Butter Pecan Cake
Mississippi Mud Brownie
And so much MORE!

Desserts are available for purchase by the pan, whole cake (6", 8", 10" or 12"), dozen+ cupcakes/oatmeal crème pies, and full 9" cheesecake. These custom orders must be placed at least 3 business days in advance.
Locals Love It
Cream & Shuga Coffee House & Restaurant is located at 140 Mahaffey Street in Jefferson – less than 9 miles away from Traditions of Braselton. It's open from 7 a.m. to 4:30 p.m. Monday through Friday and from 8 a.m. to noon on Saturday. It's closed on Sundays. Come discover why it's been voted Readers' Choice for "Best Coffee Shop" for two years running by the Jackson Herald and Braselton News. Just think, if you lived in Traditions of Braselton, you could be getting your coffee fix here regularly! To learn more about Cream & Shuga Coffee House & Restaurant, visit www.creamandshuga.com. To learn more about Traditions of Braselton – including our lifestyle-centric amenities and beautifully crafted homes – please visit www.DiscoverTraditionsBraselton.com. We look forward to seeing YOU soon!